Cardanol
Cardanol is a natural substance that is renewable and inexpensive in cost that is produced as a byproduct of the cashew industry. 3-n pentadecyl phenol, 3-(pentadeca-8-enyl) phenol, 3-c(pentadeca-8,11 dienyl) phenol, and 3-(pentadeca-8,11,14-trienyl) phenol are the constituents. Obtained By vacuum distillation of the spongy mesocarp of cashew nut shells (CNSL), cardanol is an inexpensive renewable organic natural resource. Kumarasamy Industries is one of the top  cardanol supplier in India.

Top Cardanol Manufacturer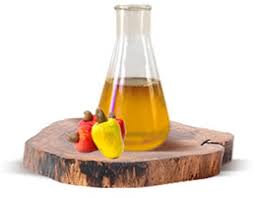 Cardanol is a phenolic compound with a C15 aliphatic chain in metaposition, consisting of 1,2,3 double bonds in a linear chain with a saturated side chain obtained from cashew nut shell liquid, that finds many applications in the form of phenol formaldehyde resins in varnishes, paints, and brakelinings. Cardanol derivatives are used in the production of dyes, plasticizers, and ion-exchange resins. Pesticidal activity of chlorinated cardanol compounds was discovered. As surface active agents, sulfonated derivatives of cardanol, tetrahydrocardanol, and their phenolic counterparts are employed.
CNSL and Cardanol have several applications in the chemical industry. A Cardanol-based resin is frequently used as a binder or friction powder in car brake linings, as well as for surface coatings such as anticorrosive paint, varnish, and laminating. Cardanol was also used as a sealant for brick, concrete, steel, and plywood. This chemical possesses humidity, acid, and alkaline resistance properties.

Specification of Cardanol Manufactured
| | | |
| --- | --- | --- |
| Parameters | Single Distilled | Double Distilled |
| Appearance |  Pale Yellow | Pale Yellow |
| Consistency | Liquid | Liquid |
| Specific Gravity @ 30°C | 0.920 – 0.933 | 0.920 – 0.933 |
| Viscosity @ 30°C | 40 – 60 CPS | 40 – 50 CPS |
| Gardner Scale Colour Value | 12 | 4 – 6 |
| Acid value | Max 5 | Max 5 |
| Iodine Value (wijs method) | 210 – 230 | 210 – 230 |
| Hydroxyl value | 180 – 200 | 180 – 200 |
| Polymerisation Time (Min) | 12 max | 12 max |
| Solid OnTend | 95% Min | 95% Min |

Oil Soluble Resins:–
The meta substitution and long hydrocarbon chain in its molecule make Cardanol resins extremely soluble in oils and provide excellent characteristics such as strong electric insulation and chemical resistance to its films. Depending on the nature of the catalyst and the aldehyde molecule, it is to make both solid and semisolid resol or novolac type resins.
Wax substitutes:–
Cardanol resins with an appropriate amine, such as stearemide, might be used to create waxing solids with very high melting points. When we react 3 pentadecyl phenol with 1:4 dichlorobutane, a wax with a melting point of 90 degrees C is formed. These waxes are less expensive and compatible with other waxes such as bee wax,  paraffin wax, and so forth.
Rubber compounding:–
Rubber compounding employs oil-soluble cardanol resins. They have a high tear strength and are resistant to petroleum-based solvents. When pure cardanol is mixed with rubber, it works as a deoxidant and plasticizer. Its ether is also utilised in synthetic rubber as a plasticizer to lower shore hardness and enhance ageing characteristics.
Lamination Industry:–
By substituting phenol or cresol for a portion of the phenol or cresol in alcohol-soluble resins used for lamination, it is possible to create resins with increased flexibility, resilience to chemicals and water, and improved electrical insulation for lamination sheets.
Surface active agents:–
Cardanol sulphonated ether has been shown to be a wetting agent and is used in the textile sector; ethoxylated tetra hydro cardanol sulphonate works better at high temperatures than dodoeylbenzene-based detergents.
Mineral oil additives:–
Additives based on hydronated cardanol amino cardanol ethers and sulphonated cardanol ether salts enhance mineral oil viscosity index, reduce sludge formation, and have antioxidant characteristics.
Adhesives:–
Water-resistance and bonding characteristics of plywood are enhanced by adhesives based on cardanol resin. Cardanol may be used to make a variety of adhesives and cements. In the presence of epichlorohydrin and phthalic anhydride, a coating compound with good film characteristics and adhesion may be produced from the reaction. Cardanol, which is used in brake linings and clutch facings, may be used to make a high-quality friction dust.
Surface coatings and paints:–
Additionally, cardanol resin varnished has excellent air drying and baking characteristics. All of these compositions are appropriate for wood finishes, food can lacquers and high quality paint applications. Paints that can be baked at 60 degrees Celsius are available. These resins are compatible with other synthetic resins such as alkydes, epoxies, chlorinated rubber and phenolic, and can be used as a raw material for a wide range of paints, including:
Pesticides:–
As a disinfectant and germicide, chlorinated cardanol has been found to be effective. Also, pyrethrin and rotanes are dissolved in cardanol formaldehyde resins, which are also employed as solvents for insecticides. Isocyanurate tetra hydro Cardanol is used in sprayable insecticides like parathion as a coupling compound.

Cardanol Manufacturing in Kumarasamy Industries

Timely & Consistent Delivery
Cater to any Required Volume
Reliability & Accurate Grade
Proven Customer Satisfaction
Best-in-class Quality products


For more details on our cardanol products, logistics, pricing or any other informations, please fill the form. One of our team member will contact you in 24hrs.
Best-in-class Quality products
Cater to any Required Volume

What is Mica? Mica is a silicate mineral which is common in igneouse and metamorphic ricks. Its individual mica crystals can split into thin plates. Micas are used in products such as drywalls, paints, fillers, especially in parts for automobiles, roofing and...
Office address: 
75-2, Sathayamoorthy Street, IOB upstairs, Near BSNL Office, Panruti, Cuddalore dist, Tamilnadu, India - 607106
Factory address: 
480/2, Kumbakonam main road, Kadampuliyur village, Panruti , Cuddalore District,
Tamilnadu, India - 607103 
Contact:
Phone no: 04142-241642,
04142-241643
Mobile no: 09003966594,
09677605650
Copyrights By Kumaraswamy Industries - 2022| Cookie Policy &  Privacy Policy | Disclaimer | Website Development - GB