What is Cardanol?
Cardanol is a phenolic lipid obtained from anacardic acid, the main component of cashew nutshell liquid (CNSL), a byproduct of cashew nut processing. Cardanol finds use in the chemical industry in resins, coatings, frictional materials, and surfactants used as pigment dispersants for water-based inks. It is used to make phenalkamines, which are used as curing agents for the durable epoxy coatings used on concrete floors. The name of the substance is derived by contraction from the genus Anacardium, which includes the cashew tree, Anacardium occidentale. The name of the genus itself is based on the Greek word for heart. Cardanol is an organic compound made from the acid named cardoic acid. It was first discovered in 1873 by Justus von Liebig, a German chemist. It is also known to be an intermediate product for the extraction of balsamic acid. The word "cardanol" comes from the word "cardamom" because it has a similar scent like that when one crushes a cardamom seed.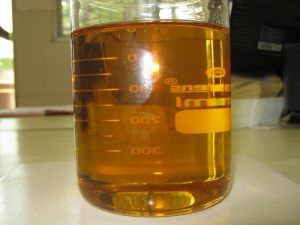 Cardanol Properties
In terms of physical properties, cardanol is comparable to nonylphenol. Cardanol is hydrophobic and remains flexible and liquid at very low temperatures; its freezing point is below −20 °C, it has a density of 0.930 g/mL, and boils at 225 °C under reduced pressure (10 mmHg). CAS registry number: 37330-39-5.
Recently, it has been demonstrated that cardanol can be used for formation of eco-design of biobased polymeric microcapsules for pesticidal applications with potential to further extended for drugs, self-healing agents, catalysts, etc. Cardanol is a terpene found in the essential oils of many plants. It has potent antioxidant properties that make it effective for fighting various cancers, such as skin cancer and pancreatic cancer.
Cardanol Manufacturing in India
Cardnol is distilled from Cashew Nut Shell Liquid. A batch of Decarboxylated CNSL is heated to 280degree celcius under Vaccum in a reactor. After few minutes of heating the vapours of Cardanol come into the condenser where it is cooled using suitable coolant to convert the vapour into liquid.
The liquid is collected into a reciever. The process runs for a fixed time after which the receivers and reactors are emptied and fresh batch is started. The Cardanol is filled in tanks or barrels and Residol in barrels after few minutes of cooling.
Samples are drawn for preliminary testing of Colour, Viscosity and pH.
Cashew nut shell liquid from different sources is purchased and stored separately for distillation.
Cashew nut shell liquid is measured using a batch tank and taken into reactor where it is distilled under vacuum at 280 degree celcius.
After the stipulated batch time , Cardanol (Grade 2) is drained from the receiver and stored in vacuum tanks or packed in drums as required . Residol is drained from the reactor into a cooling tank and stored in MS drums .
Some customers prefer double distilled cardanol also known as Grade 1 Cardanol. This is manufatured by re distilling the Cardanol at low temperature under vacuum. The distillate is almost colourless liquid and has application is many products like PU resins etc.
Residol is a thick viscous liquid formed due to polymerisation on non Cardanol components in Cashew Nut Shell Liquid . Residol in cold conditions is highly viscous and often during winters requires external heating of drums to discharge the residol. To avoid this few manufacturers prefer residol to be diluted with cashew nut shell liquid . Depending upon the viscosity requirement of customers , appropriate amount of CNSL is added. Cardanol is a trademark of the GIVAK Group, which is a leading company in India. It manufactures various types of bio-diesel, including cardanol. Cardanol is a high quality product that can be used in all kinds of vehicles-from cars to tractors. It can also be used as an alternative fuel for cooking purposes and purifies water without chemicals or boiling.
Cardanol Uses
Cardanol finds use in the chemical industry in Oil and Alcohol soluble resins, laminating resins, rubber compounding and coatings, serving as an excellent raw material for the preparation of high grade insulating varnishes, paints, enamels. It is used in friction materials, and surfactants as pigment dispersants for water-based inks and to make phenalkamines, which are used as curing agents for the durable epoxy coatings used on concrete floors. Cardanol can substitute Phenol in up to 30% in phenolic resins used as plywood bonding resin and for the lamination industries.
Oil Soluble Resins
The meta substitution and the long hydrocarbon chain in its molecule makes the resins prepared with Cardanol, highly soluble in oils and imparts superior properties such as high electric insulation and resistance against chemicals to its films. It is to manufacture both solid and semi solid resole or novolac type of resins depending upon the nature of catalyst and the aldehyde compound.
Cardanol resin varnishes have good electrical insulating properties and resistance against water and chemicals. They give superior quality Stamping Varnishes. Because of their high insulation and dielectric losses, these varnishes are preferred to compositions based on usual Phenol such as Cresol or Substituted phenols.
Surface Coatings and Paints
Cardanol resin Varnishes in addition to water and Chemical resistance have good air drying and baking properties. These compositions are suitable for wood finishes, food can lacquers tax tile bobbins and high quality paints. Stoving paints can be prepared which could be baked at 60°C. The Cardanol based resins have good compatibility with other synthetic resins such as alkydes, epoxies chlorinated rubber, Phenolic etc., and can serve as raw material for variety of paints.
Lamination Industry
By partly replacing the Phenol or Cresol in alcohol soluble resins used for Lamination one could prepare resins which imparts greater flexibility resistance to Chemical and water, and superior electrical insulation to the lamination sheets
Adhesives
An excellent quality of Friction dust could be prepared from Cardanol which finds use brake linings and Clutch facings.
Technical Service
In case you require any other technical information regarding our products, we can furnish the same easily, as we have got our own well equipped and developed laboratory. Cardanol is a type of oil that can be extracted from nutmeg, cinnamon and clove. It is used in the medical industry as an ingredient for making ointments and suppositories in eye care products, as well as toothpaste.
Cardanol Price
Latest price of Cardanol in India ranges from INR 45/Kg to INR 120/Kg.
Kumarasamy Industries – Cardanol Manufacturer in India
Looking for Cardanol Manufacturer in India. Kumarasamy Industries is one of the top Cardanol suppliers in India. We are a ISO certified cardanol exporter, exporting cardanol to more than 30 countries in the world.
Contact